Safety of our customers and staff remains our number one priority. We will continue to monitor the activity in San Jose. But we are happy to announce that we are open again for business!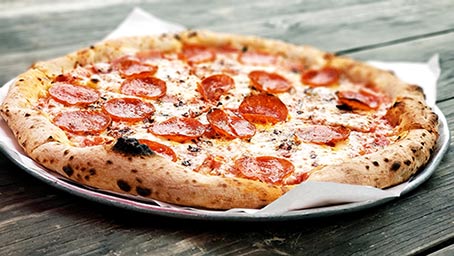 "Super easy and convenient"! That's how one customer describes our pizza pick up system in place!

Enter on the corner of West St. John Street and North San Pedro Street. We have created a wide, open space for you, in front of San Pedro Square Market.

Social distancing guidelines will be strictly enforced for your, and our staff's health.
For the time being you can even order beer or wine to go, to compliment your domestic, authentic Neapolitan pizza experience.

We offer artisan, wood fired pizza delivery or pick up only, but that can all change in a matter of weeks.
How does it all work? Easy! There are two convenient options.

Opt for pick up in front of San Pedro Square Market through the Pick Up button.

You'll find our pick up table near the large, red San Pedro Square Market sign. We have more information on our Location page.

Or you can order third party Delivery.